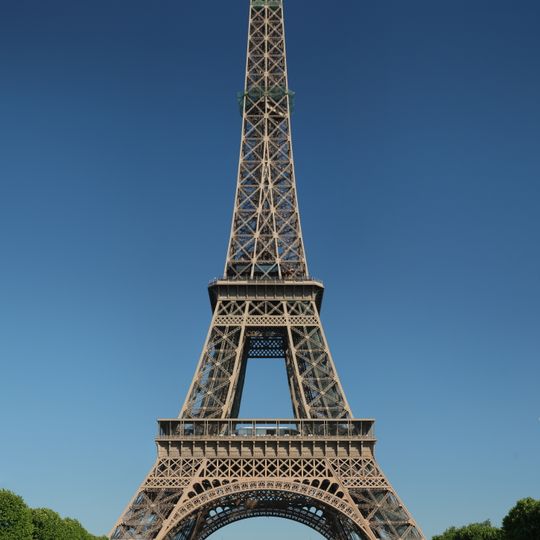 Eiffel Tower
The Eiffel Tower, the world's most recognizable structure, is located on the Champ de Mars in Paris (France), and is named after its engineer, Gustave Eiffel. Locally known as « La dame de fer », it stands a full 330m tall, making it about the same height as an 81 storey building. It was built to mark the 1889 World's Fair, and since its completion in 1889, it has been a major tourist attraction and has been designated as both a monument Historique and part of a Unesco world heritage site. In 2015, it validly earned its distinction as the most visited entrance fee monument in the world with 6.91 million visitors.

At its base, the Eiffel Tower measures 125m on each side and has three levels, with restaurants located on the first and second. The upper platform of the top level stands 276m above the ground, making it one of the highest observation decks in the world that can be accessed by visitors. The tower initially caused great controversy due to its unconventional design but has since become an icon of France and a global cultural symbol.

The Eiffel Tower topped off the Washington monument to become the tallest human made structure in the world in 1889, a title it held for 41 years until the Chrysler Building in New York City was finished in 1930. Upon its completion, it was the first structure in the world to reach both the 200m and 300m marks in height. After the addition of a broadcasting aerial in 1957, it's now taller than the Chrysler Building by 5.2m. Excluding transmitters, it's the second tallest free-standing structure in France, coming in second behind the Millau Viaduct.

The Eiffel Tower offers plenty of activities and sight-seeing opportunities for tourists. Visitors can take in the mesmerizing views at the observation deck or enjoy a meal at one of the two restaurants located at the tower. There are also several guided tours and educational programs available to learn more about the history and design of this iconic structure.
About
Eiffel Tower, tower located on the Champ de Mars in Paris, France
Location: 7th arrondissement of Paris, Paris
Inception: January 28, 1887
Architect: Stéphen Sauvestre
Official opening: March 31, 1889
Floors above the ground: 3
Elevators: 8
Height: 330 m
Mass: 10,100 t
Material: wrought iron, steel
Website: toureiffel.paris