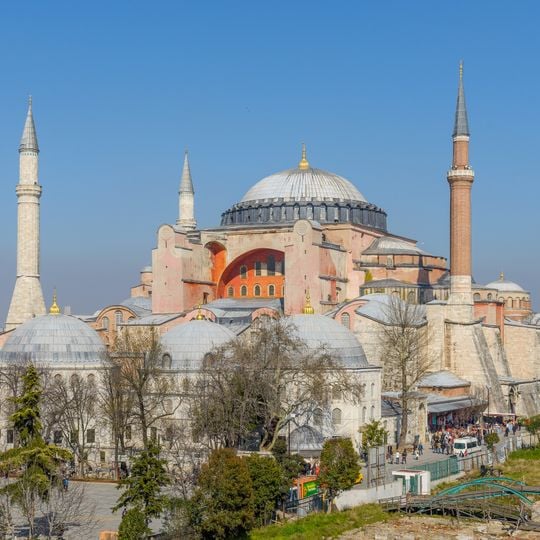 Hagia Sophia
Hagia Sophia located in Istanbul, Turkey, is a fascinating and complex site with a rich and storied history. It was originally built as a Greek Orthodox church in 360 AD which lasted until the Ottoman Empire took control of Constantinople in 1453, and was then converted into a mosque in 1935 before becoming a museum in 2019. This current structure was built by emperor Justinian I as a Christian cathedral between 532 and 537, and is considered a significant monument of Byzantine architecture. It was significant in the history of the Eastern Orthodox Church, hosting the excommunication of Patriarch Michael I Cerularius in 1054 by Pope Leo IX, the Fourth Crusade in 1204 which saw its transformation into a Catholic Cathedral under the Latin Empire, before being restored to Orthodoxy in 1261.

The mosque served as the spiritual and religious center of Constantinople for nearly 1,000 years until 1520, when the Seville Cathedral was built. Since then, it has been replicated by churches and mosques, such as the Thessaloniki Hagia Sophia and the Sultan Ahmed Mosque. In 1931, the complex was closed to the public until 1935, when it was re-opened as a museum. By 2019, it had become the most visited tourist attraction in the country. In July of 2020, the Council of State annulled the 1934 decision to create a museum, and instead, the building was converted back into a mosque and garnered condemnation on an international level.

Overall, Hagia Sophia is a remarkable cultural and historical site that has been hailed as a testament to the grandeur of Byzantine and Eastern Orthodox civilizations. Despite its many changes since 360 AD, its influence is apparent in its architectural elements, religious associations and its intricate and storied past.
About
Hagia Sophia, Ottoman-era grand mosque and former Byzantine Orthodox patriarchal cathedral
Inception: December 27, 0537
Founder: Constantine the Great
Architects: Isidore of Miletus, Anthemius of Tralles, Trdat the Architect, Mimar Sinan
Official opening: 1054
Website: muze.gen.tr/muze-detay/ayasofya