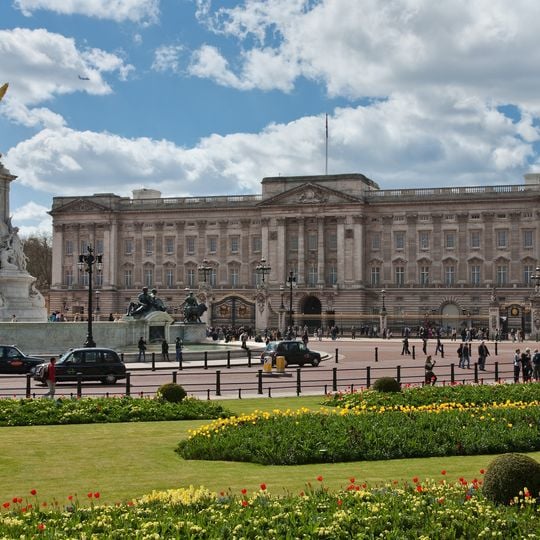 Buckingham Palace
The Buckingham Palace is the official residence of the British monarch located in the City of Westminster in London. The building serves as the backdrop for official state occasions, such as the reception of foreign heads of state during their visit to the United Kingdom. It is now a major tourist attraction. It was originally built in the year 1703 as a large townhouse for John Sheffield, 1st Duke of Buckingham and Normanby. King George III purchased the house as his private residence in 1761. Over the next 75 years, the palace was gradually enlarged, mainly under King George IV, by the architects John Nash and Edward Blore. The building would eventually feature three wings surrounding a inner courtyard. Upon the ascension of Queen Victoria to the throne in 1837, the palace became the official residence of the British Monarch. The administrative headquarters of the monarchy stayed at St James Palace, meaning that ambassadors from foreign countries are still accredited to the court at St James's despite giving their letters of credence to the monarch at Buckingham Palace. The last major addition to the palace was during the time of Queen Victoria when a wing to the east of the building was added facing onto The Mall road. This new wing featured a marble arch which was removed and re-erected at its current location near the Speaker's Corner in Hyde Park. The east facade was faced in 1913 with Portland stone in order to give a background for the Victoria memorial. This is now the much-recognised public face of Buckingham Palace.
The original Georgian interiors were proposed by Sir Charles Long and featuredlarge uses of marble painting in bright colours as well as blue and pink lapis-lazuli. King Edward VII initiated a widespread redecoration of the interiors in Belle Époque style making use of a colour combination of cream and gold.
The gardens of Buckingham Palace are the largest private gardens in London. Originally the landscape architecture was done by Capability Brown, who was later changed by William Aiton, the architect of Royal Botanic Gardens and John Nash. The artificial lake was completed in 1828 and is fed by water from the Serpentine, a lake in Hyde Park.
About
Buckingham Palace, official London residence and principal workplace of the British monarch
Inception: 1829
Founder: John Sheffield, 1st Duke of Buckingham and Normanby
Architects: William Winde, John Nash
Official opening: 1849
Address: London SW1A 1AA