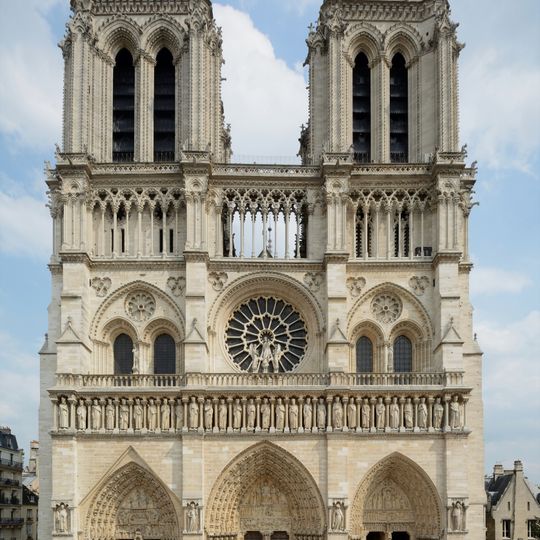 Notre-Dame de Paris
Notre-Dame de Paris is a medieval Catholic cathedral located on the Île de la Cité in the 4th arrondissement of Paris. The cathedral, dedicated to the Virgin Mary, is a renowned example of French Gothic architecture, with unique attributes such as the rib vault, flying buttress, and rose windows. Its interior houses several pipe organs and its enormous bells. Construction of the cathedral began in 1163 and was largely completed by 1260, when it was modified several times over the centuries. During the French Revolution, in the 1790s, Notre-Dame suffered extensive desecration.

The size and beauty of the cathedral led to its popularity during the 19th century, spurring a renovation project between 1844 and 1864 under the direction of Eugène Viollet-le-Duc. It continued to be a popular landmark for Parisians, who celebrated the liberation of Paris at Notre-Dame in 1944. In the early 21st century, 12 million people visited the cathedral annually. It is also the home of the archdiocese of Paris and was awarded minor basilica status in 1805.

Notre-Dame has been the site of many iconic events throughout its history, including the coronation of Napoleon and the funerals of many of the French Republic's presidents. It is renowned for its Lent sermons, which since the 1830s have been given by prominent public figures or government-employed academics. Over the centuries, much of Notre-Dame's original decoration and artworks were removed. However, visitors can still view several sculptures and pieces of art from the Gothic, Baroque and 19th century periods, as well as relics including the Crown of Thorns, a sliver of the True Cross, and a nail from the True Cross.

On 15 April 2019, the roof of Notre-Dame caught fire, resulting in significant structural and environmental damage. In response, the French National Assembly passed a law in 2019 requiring the restoration to preserve the cathedral's "historic, artistic and architectural interest." Stabilization work was completed in November 2020, and reconstruction began in 2021. The French government is aiming to complete the restoration of Notre-Dame in time for the 2024 Summer Olympics in Paris: the cathedral site will be formally returned to the church on 15 April 2024, and the first mass since the fire will take place in the cathedral nave on that day.
About
Notre-Dame de Paris, cathedral in Paris
Location: Quartier Notre-Dame, 4th arrondissement of Paris
Inception: 1160
Founder: Maurice de Sully
Architects: Jean de Chelles, Pierre de Montreuil, Pierre de Chelles, Jean Ravy, Raymond du Temple
Capacity: 9000
Height: 69 m
Length: 127 m
Width: 48 m
Area: 5,500 m²
Material: dimension stone
Address: 6 Place du Parvis de Notre-Dame, 75004 Paris
Website: notredamedeparis.fr