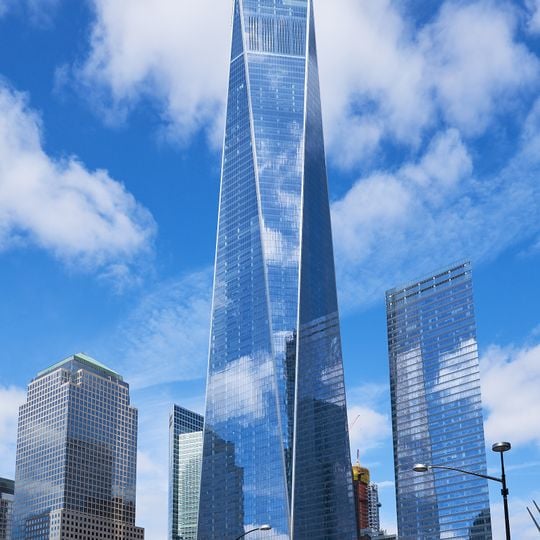 One World Trade Center
The One world Trade center is a skyscraper located in New York City and stands at an impressive 541m, making it the highest building in the Americas and the 6th highest in the world. Part of the new world Trade center area in lower Manhattan, the building's name pays homage to the previous One world Trade center, which had been destroyed by a terrorist attack on September 11, 2001. The official construction for the new One world Trade center began April 27th, 2006 and the official opening was held on November 3rd, 2014, when the building's largest tenant, publisher Condé Nast, moved in. The One world Trade center is developed and managed by the Port Authority of New York and New Jersey and The Durst organization.

The total height of the building, up to the top, is 546m, however, for « architectural height » the top lightning rod is not included, making its official height an iconic 1776ft, or 541m - referring to the year in which the american Declaration of Independence was signed in 1776. The highest level of the building is the 104th floor, although in reality there are 94 levels, with the remaining 10 being omitted from the numbering. In addition to the 94 above ground levels, the One world Trade center consists of five underground levels.

The construction of the One world Trade center was a contentious one, as citizens of New York argued over what to do with the former Twin Towers area. After the decision to build a new skyscraper was taken, there were several revisions to the original design. The final design was created by the architectural design firm Skidmore, Owings and Merrill, led by their lead architect David Childs.
About
One World Trade Center, main building of the rebuilt World Trade Center complex in Lower Manhattan, New York City
Location: Manhattan
Inception: November 3, 2014
Architects: David Childs, Skidmore Owings Merrill, Daniel Libeskind
Official opening: November 3, 2014
Floors above the ground: 94
Floors below the ground: 5
Elevators: 73
Height: 541.3 m
Area: 325,279 m²
Material: bulletproof glass, reinforced concrete, steel, aluminium
Website: onewtc.com