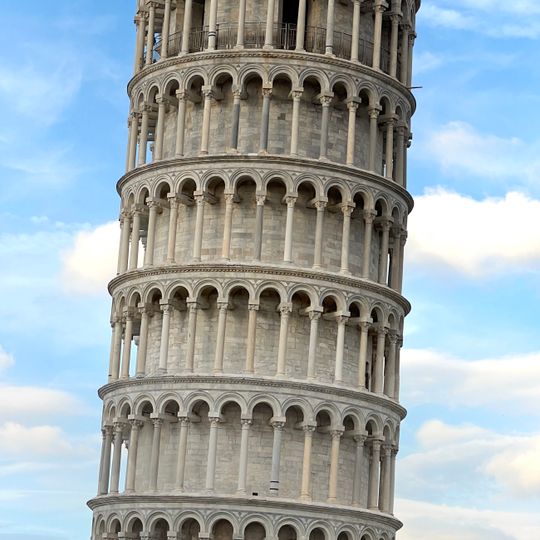 Leaning Tower of Pisa
The Leaning Tower of Pisa is widely known for its unintended tilt, which has been studied extensively. Scientists believe that there are many things that contribute to the tilt, including the lightweight nature of the marble, the tower's height, the material of the construction, the design of the foundation, and the ongoing effects of wind and erosion.

The Leaning Tower of Pisa is a campanile, or freestanding bell tower, of Pisa Cathedral located in Pisa Cathedral Square. This iconic building is known for its nearly four degree lean, caused by an unstable foundation. It stands 55.86 meters from the ground on the lower side and 56.67 m on the higher side, with a width of 2.44 m, weighing 14,500 tonnes. It has 296 or 294 steps, with the Seventh floor having two steps lesser on the North-facing staircase.

The tilt of the tower worsened when construction of the Tower was completed in the 14th century. By 1990, the tower had inclined to a angle of 5.5 degrees, before stabilization methods in the form of remedial work was undertaken, reducing the tilt to 3.97 degrees by 2001. Scientists have attributed many factors as part of the cause for the inclination, like the weight of the Tower, the material of the tower and the ongoing effects of wind and erosion.

The Leaning Tower of Pisa is a widely recognized landmark and symbol of Italy, receiving millions of tourist visits each year. It is one of the premier attractions amongst the most visited sites in the world.
About
Leaning Tower of Pisa, cathedral bell tower in Pisa, Italy
Location: Pisa
Inception: 1173
Architects: Bonanno Pisano, Guglielmo, Diotisalvi
Official opening: 1373
Floors above the ground: 9
Elevation above the sea: 210 m
Height: 58 m
Diameter: 14.852 m
Mass: 14,700 t
Area: 500 m²
Accessibility: wheelchair accessible
Material: marble, Carrara marble
Phone: 390503872210
Email: [email protected]
Website: opapisa.it