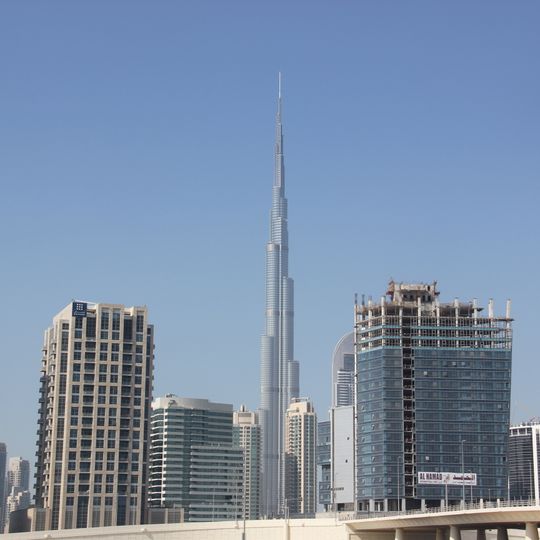 Burj Khalifa
The Burj Khalifa is a famous skyscraper located in Dubai, United Arab Emirates and it is renowned for being the world's tallest building with a total height of 829.8 m and a roof height of 828 m. Its construction began back in 2004 and it was opened in 2010 as part of a new development called Downtown Dubai. It was designed to be the centerpiece of large-scale, mixed-use development. This building was named in honor of the former president of the United Arab Emirates, Khalifa bin Zayed Al Nahyan, and the decision to construct it was based on the government's decision to diversify from an oil-based economy, and for Dubai to gain international recognition.

The Burj Khalifa broke numerous records, such as being the tallest building in the world. It was designed by a renowned team led by Adrian Smith of Skidmore, Owings & Merrill, the same firm that designed the Sears Tower in Chicago, also a previous record holder. Hyder Consulting was chosen to be the supervising engineer, while NORR Group Consultants International Limited is the one supervising the architecture of the project.

Visitors at Burj Khalifa can explore the Armani Hotel, At The Top Burj Khalifa lounge and experience unparalleled views of the city and beyond. There are dining experiences and observatory decks which let tourists take a glimpse of the city and enjoy breathtaking sights, especially during the night making it one of the most popular attractions in Dubai.
About
Burj Khalifa, skyscraper in Dubai, United Arab Emirates
Location: Dubai
Inception: 2010
Architects: Adrian Smith, Marshall Strabala, George J. Efstathiou, William F. Baker, Skidmore Owings Merrill
Official opening: January 4, 2010
Floors above the ground: 163
Floors below the ground: 1
Elevators: 58
Height: 828 m
Area: 344,000 m²
Material: reinforced concrete, steel, aluminium, glass
Address: 1 Sheikh Mohammed bin Rashid Boulevard
Website: burjkhalifa.ae